Posted on indianexpress.com on 12 April 2017
Vietnam is by far the largest importer, data show; it is likely, however, that the bulk of the over 6 lakh tonnes of carabeef shipped to Vietnam finds its way unofficially to China.
Brazil and India have been vying for the top spot in world beef exports over the past several years. In 2014, India dislodged Brazil from the number 1 slot, according to United States Department of Agriculture data. The latest data from 2016 show India and Brazil tied on top — with both countries accounting for just under 20% each of the world's total beef exports. They, along with Australia and New Zealand, are the world's largest beef exporting countries, as per the US data.
An important clarification here is that India does not officially export the meat of cows. The so-called "beef" that it exports is buffalo meat, which is also known as "carabeef". The United States "beef" data includes carabeef. The bulk of India's buffalo meat exports are to Asian countries — 11 of the top 15 destinations for buffalo meat by value in 2015-16 were in Asia and 3 in Africa (Algeria, Egypt, and Angola). Russia was the 15th destination — at No. 15 in the list of the top 15.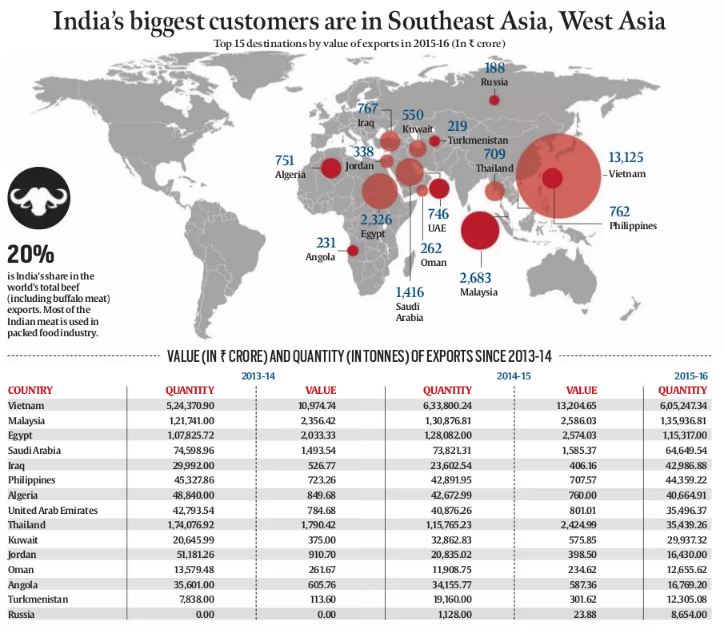 The biggest market for Indian buffalo meat, at Rs 13,125 crore, was Vietnam in 2015-16. Malaysia (Rs 2,683 cr) was a distant second, followed by Egypt (Rs 2,326 cr), Saudi Arabia (Rs 1,416 cr) and Iraq (Rs 767 cr). However, Vietnam by itself does not have the capacity to absorb this value (just under half the total) and quantity (over 6 lakh tonnes, or 46% of the total) of buffalo meat exports — and the bulk of the consignments to that country are said to make their way eventually to China. China technically does not import any buffalo meat from India. However, a grey market has developed in recent times, with Chinese traders reportedly using Vietnam's Haiphong port to bring in Indian buffalo meat loaded on small vessels.
The buffalo meat exported by India is mostly raw, de-boned chunks, used primarily in the processed and canned food industry. Very little makes its way to kitchens for direct consumption by individuals. This is because carabeef is tougher, and is hence considered inferior to cow meat; for this reason, it also fetches a discount to regular beef in the world market. Thus, the average free-on-board price of buffalo meat exported from India in 2014-15 was $ 3,240 (about Rs 2.1 lakh) per tonne, whereas the corresponding unit value for chilled and frozen beef cuts from Brazil was $ 4,515 (more than Rs 2.9 lakh).
Lower prices, along with the proximity to key consuming markets in Southeast Asia and West Asia, has imparted a huge competitive edge to Indian buffalo meat exports in recent years.
Thus, between 2009 and 2014, India's beef exports more than trebled from around 0.6 million tonnes to over 2 million tonnes in carcass weight equivalent terms. In value terms, shipments more than quadrupled from $ 1,163.54 million in 2009-10 (April-March) to $ 4,781.18 million in 2014-15. In the process, beef also become India's No. 1 agri-export item, ahead of basmati rice ($ 4,518.25 million).